Ugly Kid Teen Comics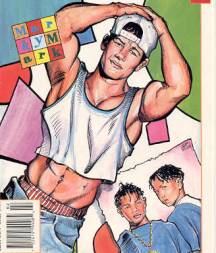 Whilst trying to find some pictures of Ugly Kid Joe or, at the very least, a copy of their
(I Hate) Everything About You
video, I happily stumbled across
this amazing Teen Comics page
! It's a goldmine of a website! 90210 comics, Melrose Place comics, Marky Mark Comics, 90210 comics, Melrose Place com... well, you get the idea - an what an idea it is!
This one
looks the best, if only for the sheer range of talent across the front cover. It may be a divine idea to buy one and get the cover blown up to poster size so you can hang it next to your Warhol movie posters. While waiting for the post to come, you could check out
X-E's look at Luke Perry and Jason Priestley's WILD Adventure
, which - to bring things full circle - actually has Ugly Kid Joe on the front cover.